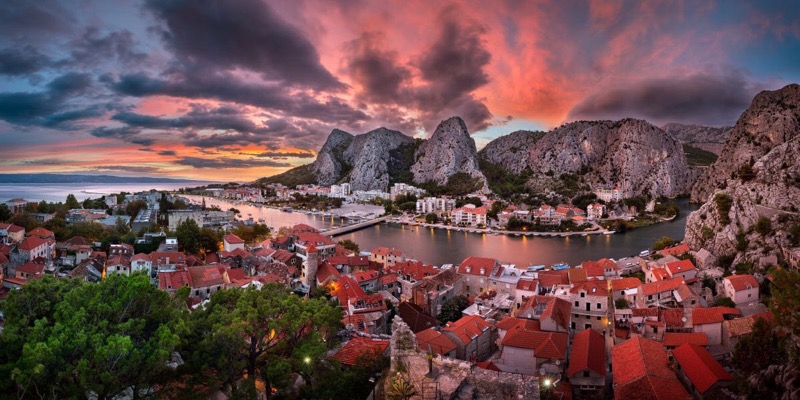 Omis is a small picturesque Dalmatian town, located in the very heart of Dalmatia. Thanks to its rich history and favorable position it was always attracting attention. Located at the mouth of the Cetina river it abounds in breathtaking natural beauties. This is exactly why Omis stands out and makes a particularly attractive tourist destination.
Full of sandy beaches and hidden bays, Omis is perfect for families wishing to enjoy a relaxing holiday. Surrounded by crystal clear waters and interesting underwater, it conquers with its uniqueness. There are also various activities such as sailing or windsurfing. For the active tourism lovers, there is a canyon of the Cetina river.
In its 105 km long run and untouched nature, Cetina offers multitude activities.
It is considered one of the most beautiful places in Croatia for kayaking or rafting. And for the adrenalin seekers there is an amazing zip-line where you can experience an unforgettable rush situated in the most breathtaking nature of the Cetina canyon.
Along the river flow, there are many excursion sites to suit everyone's taste. From various activities for the youngest to rich gastronomic offers.
As a town with a Mediterranean soul, Omis offers specific flavors. It is hard to avoid quality wine, olive oil or fresh fish on a homemade food.
The city is full of restaurants, and each of them offers their own special touch.
Also known as the center of the klapa song, for over 50 years, there is a Festival of the Dalmatian song organized each year during the summer months. Klapa singing is one of the main characteristics and symbols of Omis. It is important to emphasize that klapa singing is on the UNESCO's List of Intangible Cultural Heritage of Humanity since 2012.
The whole look and atmosphere of the city can be described as a typical Dalmatian. Numerous narrow streets (kale), stone buildings, a mixture of smells of the sea and the rivers, the klapas song…
SHORT ABOUT HISTORY OF OMIS
Omis was first mentioned more than 2000 years ago as a small settlement, Oneum. Throughout history, it had several variants of a name; Oneon, Oneum, Olmissium, Almissa,…
As it had an important connection with inland, Omis was often under the pressure of Mediterranean merchants.
The town has a rich pirate history. Pirates from Omis were rulers of the sea from Split to Dubrovnik for the entire two centuries.
They were known as ruthless and hardly anyone ever emerged victoriously.
The pirates admitted Venetian rule in the 15th century when their power was weakened. They changed their ways and turned their interests to fishing and agriculture.
It was during that time that the town acquitted its appearance and architectural form. Reminders of the past can be found at almost every step. The fortresses Fortica and Mirabella (Peovica), as well as the remains of the Turjun tower, are just some of them.
Tourist Board of the City of Omis takes care that the memory of the Omis pirates doesn't fade away. Based on real historical facts, the pirate battle is reconstructed each year during the summer months.
For 11 years in a row, in the heart of the season, Omis rises again as a pirate city.
The Pirate Battle is a unique and traditional event that brings together an increasing number of people. Carefully planned and elaborated, it contributes to the creation of Omis as a recognizable brand.
It is not surprising that European Best Destinations recommends visiting this beautiful city.